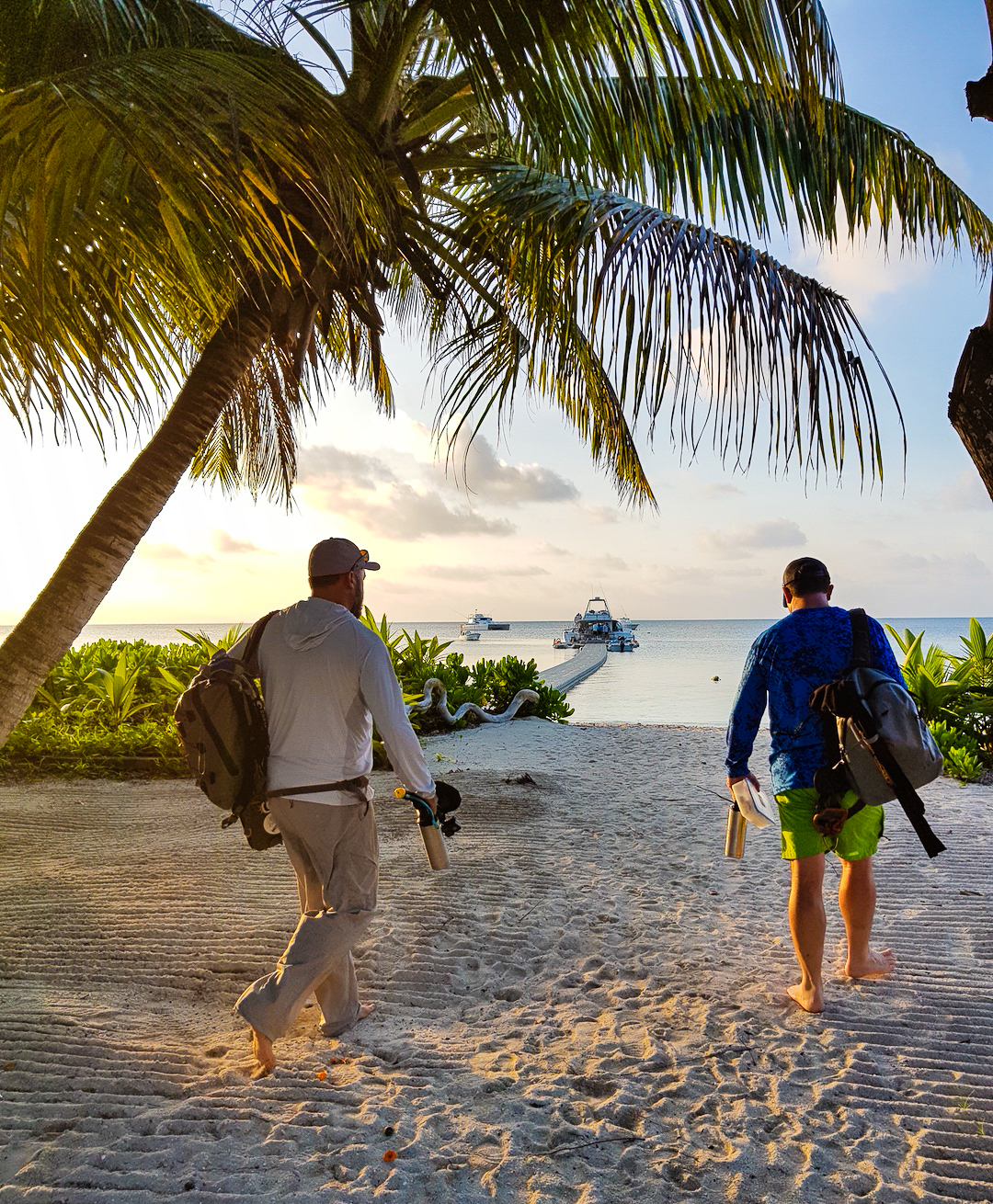 Alphonse / St. Francois Atoll
The Seychelles


Let's get the geography lesson out of the way first. The Seychelles (officially the Republic of Seychelles) is an archipelago of 115 islands in the Indian Ocean 1500km (over 900 miles) off the East coast of Africa. The population is just under 100,000 Seychellois, the largest ethnic group (93%) being Creoles. Official languages are English, French and Seychellois Creole and the official currency is the Seychellois Rupee. The archipelago sits just south of the equator.
If you thought the Seychelles is all about tropical islands, golden sandy beaches and azure seas you'd be right, it's exactly what it's like. Conveniently for us in Dubai, it's only a short four and a half hours Emirate Airline's pampered hop across the Indian Ocean to Victoria, the capital situated on the main island of Mahe. Victoria has seen large amounts of capital investment over the last few years and there is now a number of resorts offering everything from serviced apartments to luxurious resort accommodation. We stay and use the great facilities on Eden Island as this is very central and only a short ride away from both Seychelles International Airport as well as the domestic airport that services the outer islands (where we fish) which is run by IDC (Island Development Corp).
The Fishing
The Outer islands (including Alphonse/St. Francois, Astove, and Cosmoledo) are on any serious fly fisherman's bucket list, and with good reason, they're truly spectacular. Each island has its own character from the 5 star comfort and convenience of Alphonse, the ruggedness and individuality of Astove to the sheer mind boggling opportunities on Cosmoledo (Cosmo to the initiated). Trips are usually 7/8 days in duration with a day to fly in and a day to fly out although the local flights themselves are all less than 3 hours (1 hour to Alphonse) in a 16 seater turbo-prop aircraft.
Although trips fly into Alphonse most of the fishing is done on St. Francois which is a 45 minute ride across a deep channel that can, at times, become quite rough. The guys are experts though so they will make sure everyone stays safe. The fishing on St. Francois is restricted to 12 rods, however, there is some good fishing to be had on Alphonse itself and if you opt not to have the services of a guide you can fish there as a leisure guest.
Species
(here's where it gets interesting!)


GIANT TREVALLY: The gangster of the flats, the pitbull of the reef. It's reputation as a thug is legendary and totally deserved. The small ones (called mini Ts by the OAF team) have as much, and in same cases even more, attitude than the big ones, and that's saying a mouthful.
BONEFISH: The Bonefishing on St. Francois, in particular, is absolutely world class with days of 100+ fish not unheard of. When conditions are right, the commonly held 20+ Bonefish magic day is highly likely and we're talking 3lb+ fish. OAF's biggest last season was over 8lb and the 20+ fish target completed in less than an hour's fishing!!
PERMIT: Indo Pacific Permit are targeted on all of the islands. These fish will test all your skills and just a chance at one puts most fishermen, even seasoned ones, into 'beginner' mode. You need to bring you're a game but when it comes together there is little to beat the sight of 'the golden one' in the net.
TRIGGER FISH: Let me just say this first, 'Aaaaggghhhh!!!'. Right, now that's out of the way. These very quirky looking and acting piscatorial bolt cutters are without doubt the most addictive fish on the flats. Difficult to explain but once you actively pursue them they get into your psyche and become a compulsion. Occasionally you even catch one as well.
SAILFISH: Without doubt the most spectacular fish in the sea and that first run and the jumps will stay with you forever. All the islands can offer shots at sailfish but St. Francois is the most consistent offering a bluewater option on a daily or half day basis. Highly recommended.
BLUEFIN TREVALLY: 'The other' trevally on the flats and maybe the prettiest with their electric blue fins and highlights. These guys are the speedsters of the family coming in like a pack of fighter planes to harass any and all in their path. If they grew to GT size they'd be unstoppable.
OTHERS: Almost too many species to mention. The OAF fly team has caught Parrot Fish, Dogtooth tuna, Red Bass, Grouper of all sizes and colours, Jobfish, Yellow Fin Tuna and, on Alphonse/St. Francois, the highly sought after yellow puffer fish (local joke there).
Equipment
(Bearing in mind there's a 15kg checked
baggage limit on the local flight)


RODS: 8 weights are sporting for the lighter targets but will struggle with either trophy bonefish or the other target species mentioned above. For that reason and as insurance against breakages we recommend taking a 9 weight as the lightest outfit. A 10 weight is a great all rounder for this type of fishing so one always finds its way into the quiver. If your ambition is to tangle with the heavyweights then you'll need an 11 or 12 weight. All rods must be good quality like the Thomas and Thomas rods we use and capable of turning big, hard charging fish
REELS: Reels should be balanced with their appropriate rod and line weight and capable of holding at least 200 metres of backing, 30 lb for the lighter weights and at least 50lb (we use 80lb on the 12wt) for the heavier weights. Use only good quality reels that have a proven saltwater pedigree. This is not the place to experiment with that 'good value' internet special. These fish will magnify any structural or mechanical weakness in all your equipment so we use and recommend Shilton reels.
LINES: 90% of your fishing will be with weight forward floating lines. Wind is always present so should be a key consideration in line choice. A 600g sinking line is also handy if you should want to 'dredge' the reef edge.
FILES: Each of the destinations varies a little in terms of effective flies but there are some common favourites. Bonefish respond to all manner of the usual suspects, crazy charlies, pillow talks and variants thereof all work well. The Alphlexo crab is THE permit and trigger pattern for all destinations. GTs like big profile baitfish patterns as well as BIG poppers, our favourites are Brush Flies, Fat Boys and Reaper Poppers. Over white sand the good old Clouser tied on a 3/0 or 4/0 is also worth including in the fly box.
CLOTHING: It's near the equator, the sun is strong, it's hot, it rains and gets humid, clothing has to be appropriate. Shirts, shorts and trousers should be quick drying and have a high UPF factor. Either a hood on the shirt or a lightweight buff is very handy should the sun get too much. A lightweight rain jacket is also very handy when the heavens open. Hats aren't just for show and play a major role in both sun protection and shading your eyes. Great polaroid sunglasses, like Costa del Mar, are essential both to protect your eyes and to make sense beyond all that glare. The environment can be tough on footwear so the OAF team make sure we use protective, comfortable boots that are worn-in BEFORE the trip.
Boats
Flats fishing is done from skiff style boats with outboard motors. They're exposed and do not have shade canopies. They have seating for two and adequate storage under the seat and under the deck. When fishing from these boats there's a casting deck that has a leaning post for added security. They're relatively easy to board but you will need to be able to lever yourself over the gunwale or climb over the transom with a little help from the cavitation plate on the motor.
Boats that are capable of fishing the bluewater for that shot at a sailfish, wahoo or tuna are available to hire for an extra cost. The facilities and crews on these boats are first class, please refer to the information pack provided by Alphonse Fishing Company for more detailed information. For those happy to stay close to home, the flats style skiffs are often used to fish the outer edge of the lagoon in calm weather.
Accommodation
Alphonse Fishing Company knows how to do accommodation, and in some style. No more being stacked up in bunks on a smelly boat with 6 other hard core fisherman for a week! Alphonse Island houses its guests in either single story luxurious villas or in A frame 'island' style beach houses. There's also a whole activity program for non-fishing guests which gets everyone involved. Social activities are centered around the reception/dining/bar/pool area that provides a hub for the social activities on the island. In this area you can access a decent Wi-Fi connection that will support data but not steaming services or video calls. There's no cell phone reception on any of the islands.
Transportation
A number of international airlines fly into Victoria, some on a daily basis. We use Emirates because the two flights a day give lots of flexibility depending on the amount of time you want to spend on Mahe before flying off to the outer islands. Be careful of duty-free allowances as they are strictly enforced and make sure you have printed out your IDC transport voucher or your accommodation confirmation prior to the flight as immigration will ask for it. Cabs are easy from the airport and you can pay in either US$ or Seychellois Rupees depending on your preference. Taxis from the airport to Eden Island should be about $30 but make sure you ask BEFORE you set off.
Transport to the outer islands is by way of 16 seater turbo prop plane operated by IDC, who have there own small terminal. The luggage allowance is strictly 15kg and 5kg for carry on and both luggage and passengers are weighed prior to the flight. Any excesses will have to be left behind. The flight time to Alphonse is a short 1 hour.
Personal transport on Alphonse is by way of pushbike although those guests who are either infirm or not confident on a bike can get a lift in the golf cart.
Essential Information
Your passport should have 6 months validity. Currently, the Seychelles is visa free but you will need a visitors' permit which you get on arrival providing you have proof of a return ticket, accommodation and sufficient funds. Check well in advance of travel date for any changes.

It's tropical and the sun is strong, bring high factor sun cream and lip balm and use it regularly. Similarly, good quality polarizing sunglasses and a hat are a must.

Drink lots of water (not just Sey Brew).

Bring your favourite tipple for a pre-dinner soiree as drinks (both alcoholic and soft) on the islands are expensive. However, be aware of the duty-free limits.

There is good quality fly fishing gear available for a fee and, if you order in advance, the team will prepare flies for your trip at your cost ready for when you arrive. There's a small supply of suitable flies, fly lines and tippets on the islands but they're expensive and supplied on a first come first serve basis.

These islands are remote. If you've forgotten something you can't just get it delivered.

Respect the people, the culture, the wildlife and the environment and they will respect you.
Experience it for yourself.